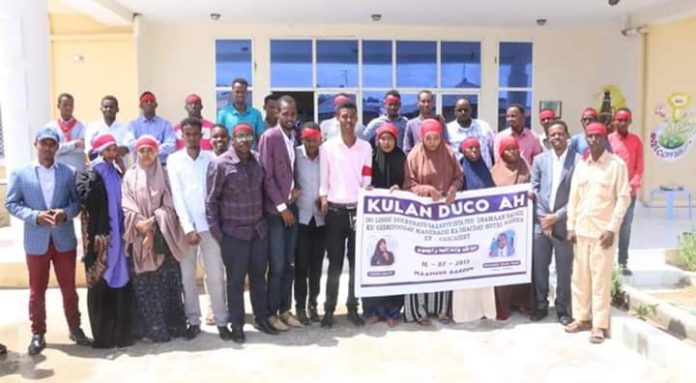 PRESS STATEMENT
MOGADISHU, Somalia, 17 July, 2019 – Somali Journalists Syndicate (SJS) expresses solidarity and stands firmly with fellow journalists in Kismayo who on Tuesday 16 July, 2019 held prayer meeting for the late two TV journalists: Mohamed Omar Sahal and Hodan Naleyeh, who were killed in Kismayo Hotel attack on Friday 12 July, 2019.
Dozens of journalists gathered in Maamuus hotel in Kismayo as they wore red headscarves around their heads to mourn for the two fallen journalists.
In their speeches, journalists and media representatives paid tribute to the late Sahal and Naleyeh as they described the two colleagues' talents as professional journalists.
"We mourn for our brother Mohamed Omar Sahal and sister Hodan Naleyeh. Both were talented and committed journalists. They both served to the people of Somalia till to their last day," Mohamed Qasim, a TV journalist in Kismayo said.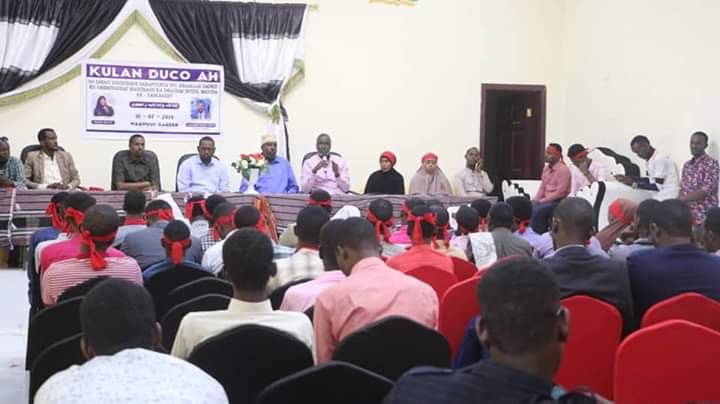 Journalists who personally worked with late Sahal and Hodan have also reflected their biography as a kind and calm journalists who loved to show case the untold stories of Somalia.
Abdishukri Haybe Kilaas, director of Waamo Community Radio said Somali journalists in general have suffered a lot and continue to risk their lives in their daily activities.
"We are crying today as we have lost two important colleagues. We are also worried about the lack of commitment to protect journalists in Somalia," Abdishukri Haybe Kilaas said.
Somali Journalists Syndicate expresses full solidarity to the journalists' gathering aimed to pray for the slain journalists and stand firmly in this difficult time as the gathering signals the significance of unity among the journalists in Kismayo.
"We are deeply troubled by the loss of Mohamed Omar Sahal and Hodan Naleyeh and we stand firmly in solidarity with the journalists and the family members in this difficult time," Abdalle Ahmed Mumin, Secretary General of the Somali Journalists Syndicate (SJS) said, "The prayer meeting in Kismayo is a good sign of unity and the strength among our colleagues during difficult times."
"Our heartfelt condolences go to the family and friends of late fallen journalists. May their souls rest in peace," Mr. Mumin added.
Born in 1983, late Mohamed Omar Sahal worked as a freelance journalist with Voice of Peace Radio in Mogadishu in 2011, before returning back to Kismayo in 2013 where he joined Radio Kismayo as a reporter. Until his death late Sahal was the Kismayo-based correspondent for SBC TV.
Hodan Naleyeh was born in 1976. After leaving the country at the age of six, she has recently returned from Canada to Somalia to help showcase Somalia's peaceful transformation through her TV shows. She was the founder of Integration TV where she started on March 1, 2019 to host half-hour Somali community show "Building a New Cultural Identity".
The death of Hodan, and Sahal, becomes the first journalists killed in the country this year.
Late Sahal left four children and a wife while Hodan left behind two sons. Hodan's husband Farid Jama was also killed in the hotel attack on Friday.
May God grant both of them an eternal rest in the Paradise