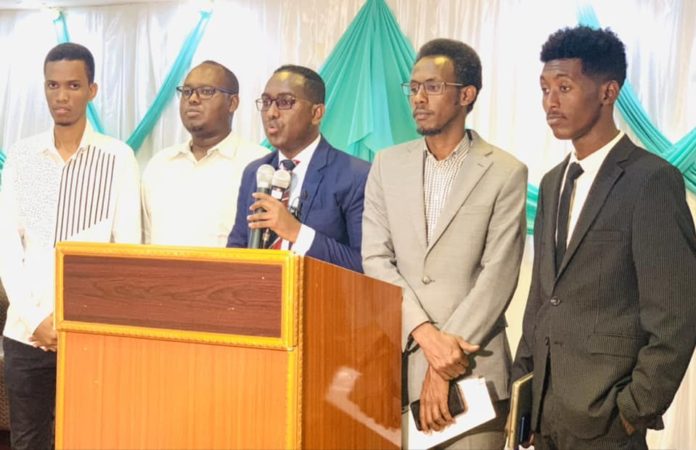 MOGADISHU, Somalia 13 February, 2023 – The Somali Journalists Syndicate (SJS) and the Somali Media Association (SOMA) are dismayed by the Banadir Regional Court decision which sentenced SJS Secretary-General, Abdalle Ahmed Mumin to two months in jail, in his role in defending press freedom, in a sham trial that took place inside the court building today on Monday.
Today's court session was the last of a series of hearings starting from January 4, 2023 to February 6, 2023. The politically-motivated case was brought by the deputy minister of information, Abdirahman Yusuf Al-Adaala through the office of the attorney general. Abdalle was arbitrarily detained on October 11, 2022 a day after the SJS office was raided following a joint press freedom groups' statement that raised concern on Al-Adaala's order intended to restrict and silence media freedom in Somalia.
Abdalle is facing state persecution for his principled stance against censorship. While in detention, Abdalle had experienced human rights violation.
On 4th January, 2023 Abdalle was charged with three articles of the Somali penal code – Article 219 (Bringing the Nation or the State into contempt), Article 321 (Instigation to disobey the laws), and Article 505 (non-observance of orders of the authorities). Our defense lawyers, however, defended Abdalle from all the three charges and even proved that journalism is not a crime under the country's constitution.
The judge Salah Ali Mohamud used Article 505 of the penal code for today's verdict.
After delivering the sentence, the judge ordered Abdalle to be handcuffed but the police officers turned down his order. When Abdalle was taken to the Mogadishu Central Prison, the officers there reviewed the verdict letter and found that Abdalle has served more than four months of detention resulting his immediate freedom. Abdalle was then allowed to go free.
"We are disappointed by the court's decision which clearly proves how the whole case was politically-motivated. We stand with Abdalle Mumin and we reiterate that journalism should not become a crime in Somalia. Today's Banadir Regional Court verdict is simply unacceptable and utterly shocking." Mohamed Osman Makaraan, Secretary General of Somali Media Association (SOMA) said, "We are extremely glad that Abdalle is free and that he is now able to continue his advocacy for media freedom in Somalia and beyond and will continue to carry out his journalism as a human rights journalist."
"As the Somali media fraternity commemorates World Radio Day, today's court sentence not only sends a chilling message to the entire media fraternity but also instills fear among media professionals and press freedom advocacy groups." SJS President Mohamed Ibrahim said, "it's a pure travesty of justice following the conviction and ruling against our secretary-general Abdalle Mumin and our lawyers are appealing this unjust decision,"
SJS and SOMA are thankful to all the supporters and partners in press freedom as we also express our gratitude to the members of Somali parliament, human rights groups and the general public for their utmost solidarity during this case.