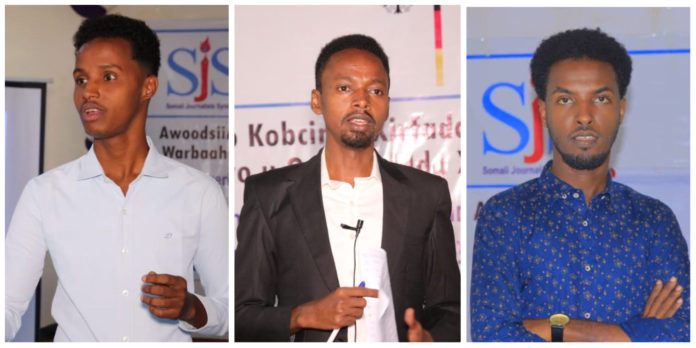 MOGADISHU, Somalia 30 November 2022 – Somali Journalists Syndicate (SJS) is appalled by the arbitrary detention of three SJS officials in Baidoa airport by the Southwest State intelligence on Wednesday morning 30 November, as we call for Somalia's Southwest State authorities to immediately and unconditionally release them.
The trio: Mohamed Ibrahim Bulbul (SJS Human Rights Secretary and SJS Executive committee member); Hanad Ali Guled (SJS Secretary of Trainings and SJS Executive committee member) and Mohamed Bishar (Media Trainer) were planning to travel back to Mogadishu at 9:00am (local time) on Wednesday when they were stopped by Southwest intelligence officer named Ali Sharif and later detained them. The three SJS officials were in Baidoa for women journalists' empowerment training supported by the German Embassy in Nairobi and a follow up training for human rights journalists network supported by the National Endowment for Democracy.
Apart from SJS work, Mohamed Bulbul covers for Universal TV while Hanad Ali Guled reports for Arlaadi Media.
According to local sources, the intelligence officers took the three SJS officials out of the airport facility aboard a Toyota pick-up truck marked with "NISA" an acronym for the National Intelligence and Security Agency. They are currently held at a detention facility around the regional presidential compound run by NISA.
SJS contacted local officials including the minister of information, Baidoa police chief and a presidential aide. All have said they were not aware of the detention but promised to follow up.
"We are appalled by the arrest of our colleagues at the Baidoa airport this morning and condemn in the strongest terms possible. Our colleagues were conducting journalists training and they should not be intimidated," Mohamed Ibrahim, President of the Somali Journalists Syndicate (SJS) said, "We call for the immediate and unconditional freedom of the three SJS officials who are also active journalists."
"Officers who carried out this detention should be investigated and held accountable. We call for Southwest State authorities to ensure media freedom and safety of the journalists including SJS members in the region." Mr. Ibrahim added.
Separately, On 11 October, NISA unlawfully detained SJS Secretary-General, Abdalle Ahmed Mumin at the Mogadishu airport following a joint press statement released by the media advocacy group on the new government directive. He is currently out on bail and is facing severe restrictions imposed by the ministry of information of the federal government of Somalia.