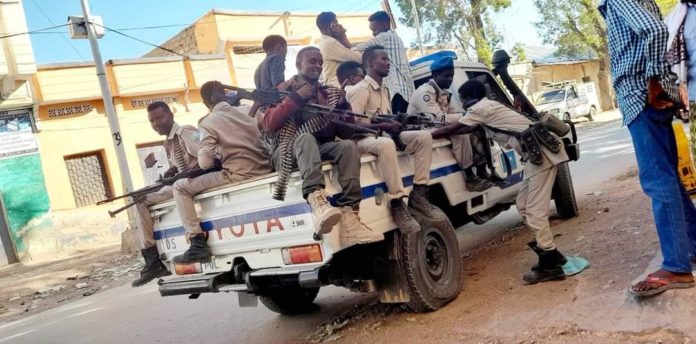 MOGADISHU, Somalia 22 January 2022 – Somali Journalists Syndicate (SJS) and its partner the Somali Media Association (SOMA) condemn the raid and closure on the local independent radio in Beledweyne and detention of its seven journalists by Hirshabelle police in Beledweyne on Friday 21 January 2022 following interviews with local armed resistance who oppose the Hirshabelle authorities.
According to CCTV footage seen by SJS and SOMA and interviews with journalists, around 2:58pm Friday local time heavily armed police officers led by Beledweyne police commissioner Mohamed Hussein Mohamud (Duur dage) attacked and took over Radio Hiiraan Weyn and put the radio off-air before detaining seven journalists on duty.  The seven journalists – Yasin Ali Ahmed (Chief Editor), Abdullahi Ali Abukar, Mohamed Ibrahim Ahmed, Mohamed Osman Mohamud, Abdisamad Elmi Abdi, Abdimajid Dahir and Mustaf Ali Addow – were transported on a police pick up truck and held at the Beledweyne police station without access to their families and lawyers until Friday midnight when they were all freed without charges.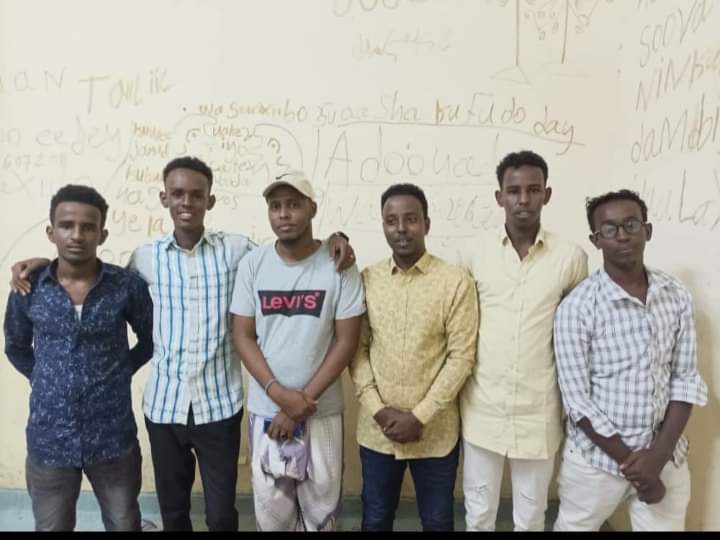 According to the journalists, they were later taken to a private house where Hirshabelle deputy president, Yusuf Ahmed Hagar (Dabageed), Hirshabelle police chief, Colonel Hassan Dhi'isow and Somali National Army commander, Colonel Mohamud Hassan Ibrahim were staying. These officials threatened the journalists with harsh consequences if they report any information critical to Hirshabelle authorities.  
The radio broadcast was allowed to resume on Saturday morning.
SJS and SOMA are concerned about the continued threats against Radio Hiiraan Weyn staff, particularly the threats of 'death and disappearance' against the seven journalists by Hirshabelle police chief, Colonel Hassan Dhi'isow.
SJS and SOMA are also concerned that police officers who committed these blatant violations and their commanders were trained and equipped with contribution funds provided by the British and German governments through a Joint Police Program with little or no accountability mechanism and the protection of human rights including protection of the right to freedom of expression.
"We strongly condemn the armed raid and closure of Radio Hiiraan Weyn in Beledweyne on Friday and the detention of seven radio journalists. While we are glad that all the seven journalists were freed and the radio resumed operations this morning (Saturday), we also condemn about the ongoing threats and pressure against the journalist and staff working for Radio Hiiraan Weyn," Abdalle Ahmed Mumin, the Secretary General of Somali Journalists Syndicate (SJS) said.
"We remind local authorities in Hirshabelle, the Somali Federal Government and their international counterparts of their responsibility to hold any officer who attacked Radio Hiiraan Weyn, detained its journalists and threatened them are investigated and held accountable," Mr. Mumin adds.
"We condemn the raid on Radio Hiiraan Weyn and the detention of the seven journalists in the strongest terms possible. Though the journalists were released from detention, the threats have not stopped yet. We call for Hirshabelle police to stop these threats and allow the independent media in Beledweyne and its journalists operate with complete independence," Mohamed Osman Makaran, the Secretary General of Somali Media Association (SOMA) said.