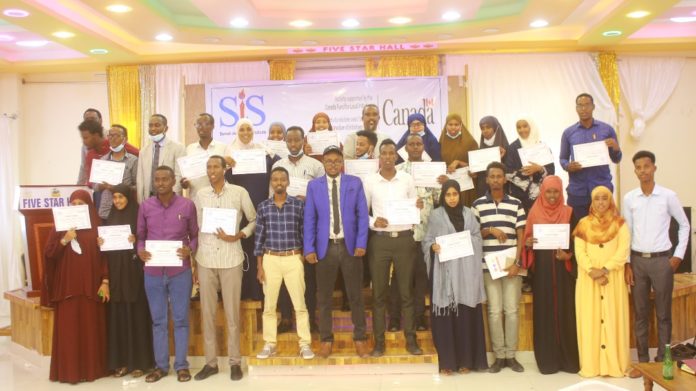 MOGADISHU, Somalia 11 September 2021 – Somali Journalists Syndicate (SJS) has completed journalists' safety and media freedom training for local journalists in Galkayo town, Mudug region on Thursday 9 September.
For the first time, this three-day training (7th – 9th September 2021) brought together 25 journalists from independent and state-media operating in Puntland and Galmudug. Supported by the Canada Fund for Local Initiatives (CFLI), the training aims to improve the safety of professional local journalists and strengthen media freedom in Somalia. Under this initiative, SJS intends to train around 80 journalists —half of them female — in four regions of the country.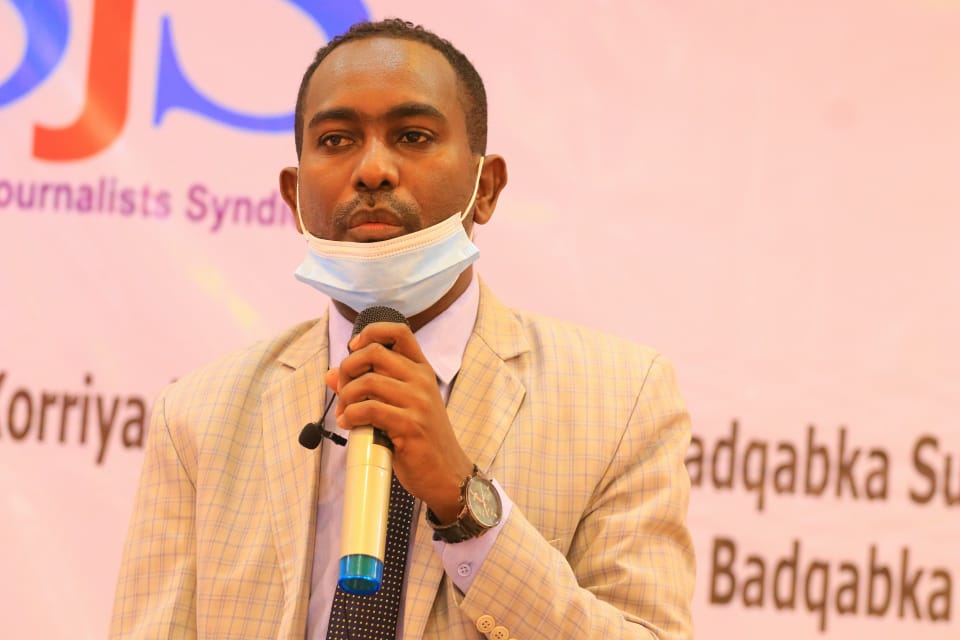 "For years, Galkayo has been the second deadliest city for journalists in Somalia after Mogadishu. Almost all journalists killed in Galkayo were shot dead because of the type of stories they have worked on. We decided to train journalists in this city to improve their safety capacity, to strengthen their professional skills and to enhance their free expression," Abdalle Ahmed Mumin, the Secretary General of Somali Journalists Syndicate (SJS) said.
In his opening remarks, Mr. Mumin called on Puntland and Galmudug authorities to stop their hostile treatment towards journalists, and allow independent media houses and journalists to operate in a safe environment without intimidation and censorship.
In collaboration with local media houses and journalists' network, community leaders and government officials from Galmudug and Puntland regional states, SJS was able to invite journalists from both sides of Galmudug and Puntland, to enable them to work hand-in-hand and learn from each other.
"This is my first time to have such a training. I am grateful to SJS for the creativity and the commitment by bringing journalists from both sides of Galkayo together. As a journalist, I have never seen this. It made me feel excited," said Muna Osman Isse, a female reporter who works at the oldest community-owned Radio Galkayo.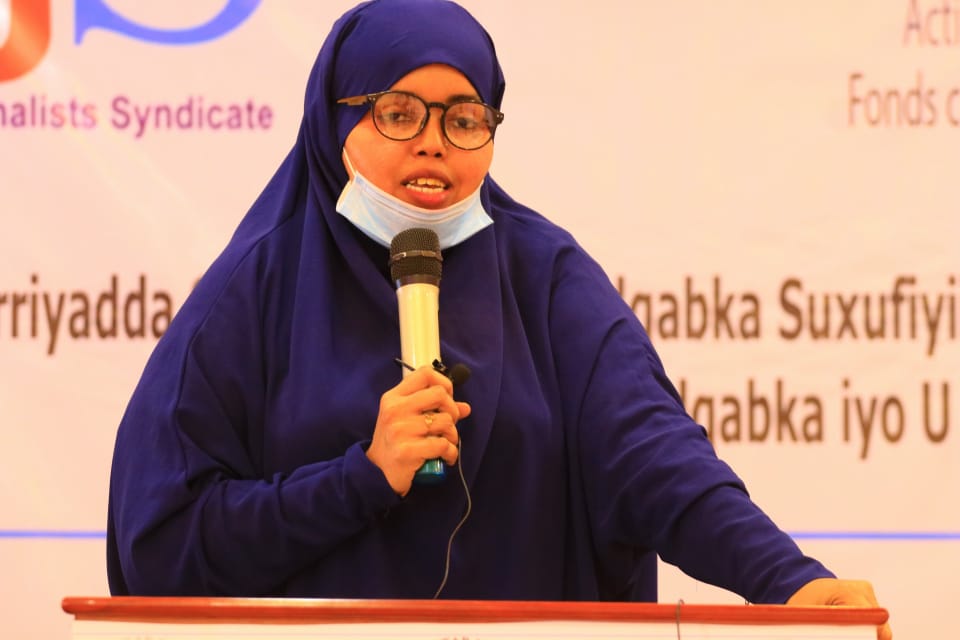 "Indeed, this training taught us new skills. I was arrested few months ago and my phones confiscated. I did not have any digital security knowledge. My social media platforms were breached. Thanks to SJS and CFLI, now I know how to protect my digital platforms," said Mohamed Omar Yusuf, a journalist working for the privately-owned Radio Deegaan.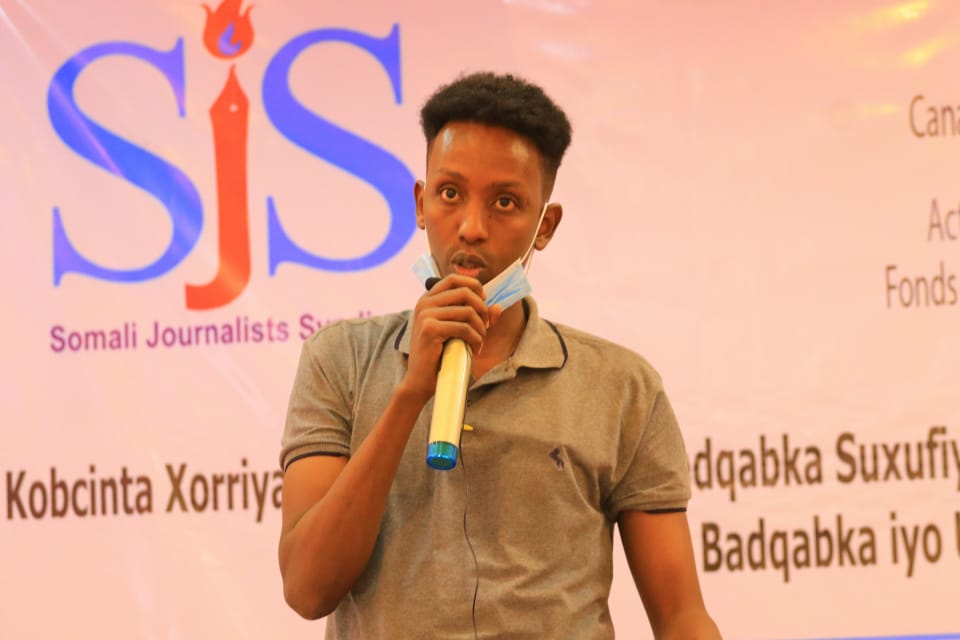 In addition to trainees, SJS invited local media directors, editors and reporters who have shared their experiences on a range of issues they have confronted to include death threats, arbitrary detention, torture as well as offline and online harassment and intimidation. Women journalists also shared their experiences of working in a hostile environment including physical threats, online harassment and intimidation.
At the conclusion of the three-day training, journalists agreed to establish a WhatsApp group and share safety related information and assist each other. The director of trainings of the Galmudug State's Ministry of Information, Hassan Abdirahman also urged the trainees to put the knowledge and skills they gained into practice and share with other colleagues in their news stations.
"I would like to emphasise the importance of sharing skills, knowledge and information for the benefit of the journalists' safety. Don't hold the skills you have learnt to yourself. Utilise it and also try to share the skills with your colleagues so it can contribute to the safety and well-being of other journalists," he added.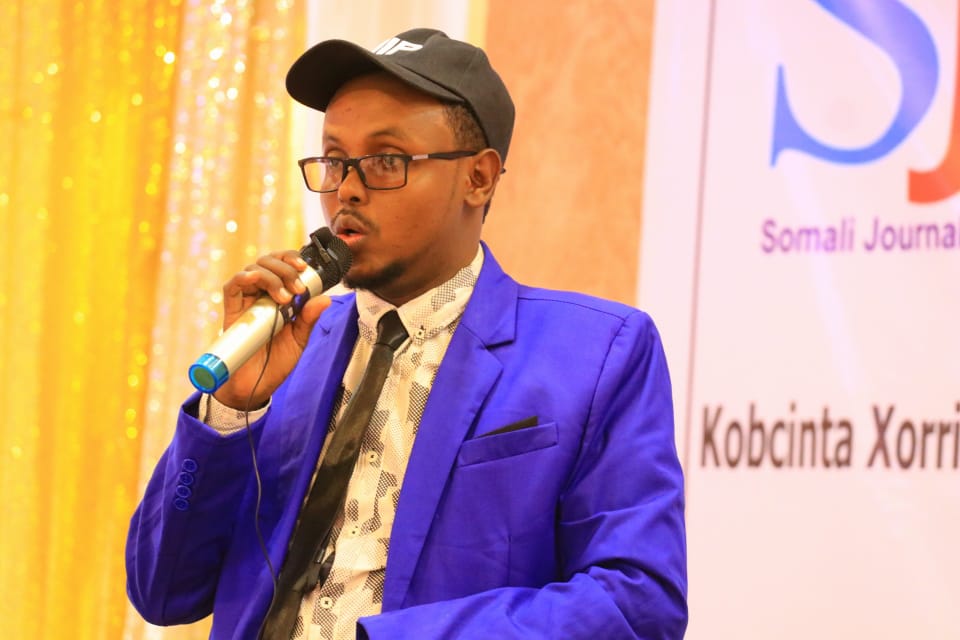 Director of Radio Galkayo, Mohamed Ali Siyad had congratulated SJS for selecting and training journalists from all media houses and freelancers in Galkayo.
"From what I have learnt from you and had seen since this morning, show how the training content was useful. I'm confident that it will improve the safety of the journalists in Galkayo. On behalf of the local media houses, I want to express my appreciation to SJS trainers and its leadership for providing this opportunity to our journalists," said Director of Radio Galkayo, Mohamed Ali Siyad.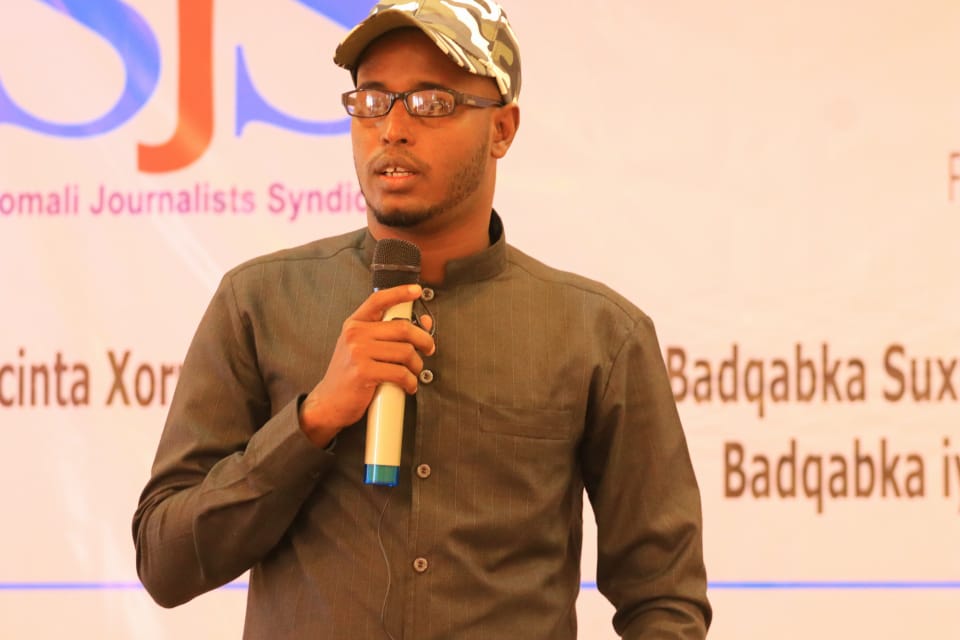 In his remarks, Galmudug's Governor of Mudug, Abdirahman Diriye Is-hal praised the role of local journalists in promoting social cohesion, integration and building sustainable peace among Galkayo community. He said SJS training directly impacts this peace initiative.
"I'm extremely glad today to address these journalists from both sides of Puntland and Galmudug. Without doubt, this initiative will greatly enhance the safety of local journalists. I hope that journalists will continue to help our efforts towards peace, cohesion and integration in Galkayo since the public security of Galkayo impacts the security of the journalists," the Governor added.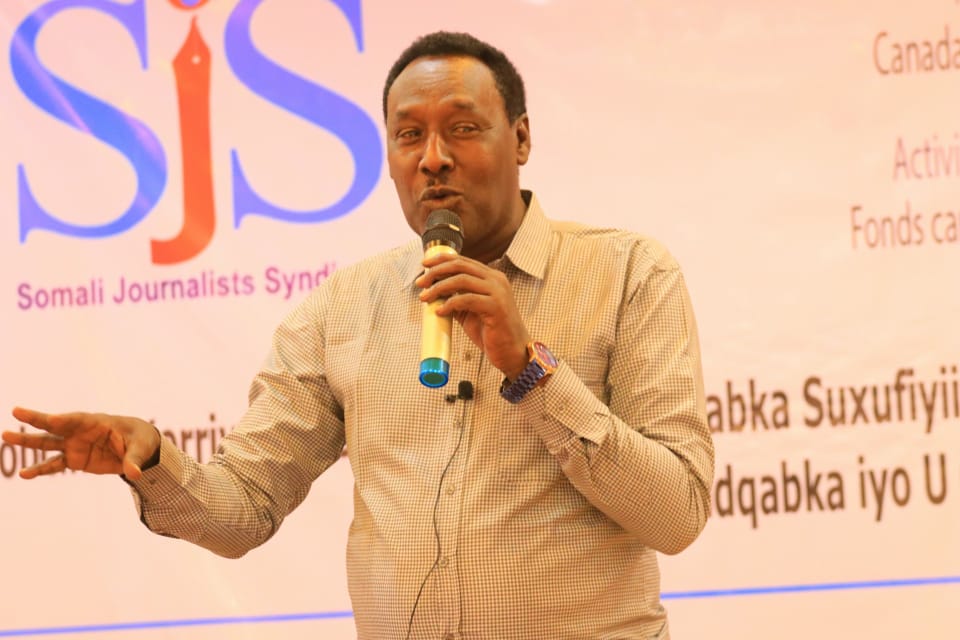 In his closing remarks, Galmudug Information Minister, Ahmed Shire Falagle who attended the closing session of the training, emphasised the role of the media in the community development and ensuring public accountability for good governance.
"Safety of journalists and press freedom is at utmost importance for us. We believe journalists have a great role in our society. I urge all journalists to strive for the truth and play a role in uniting the Somali people.  You have the power to influence and change the community," Minister Falagle said "I know SJS has been focal on defending journalists. They have mentioned journalists who were arrested in Galmudug. We are sorry for those arrests and we've condemned it. My ministry will continue to advocate for the safety and protection of journalists."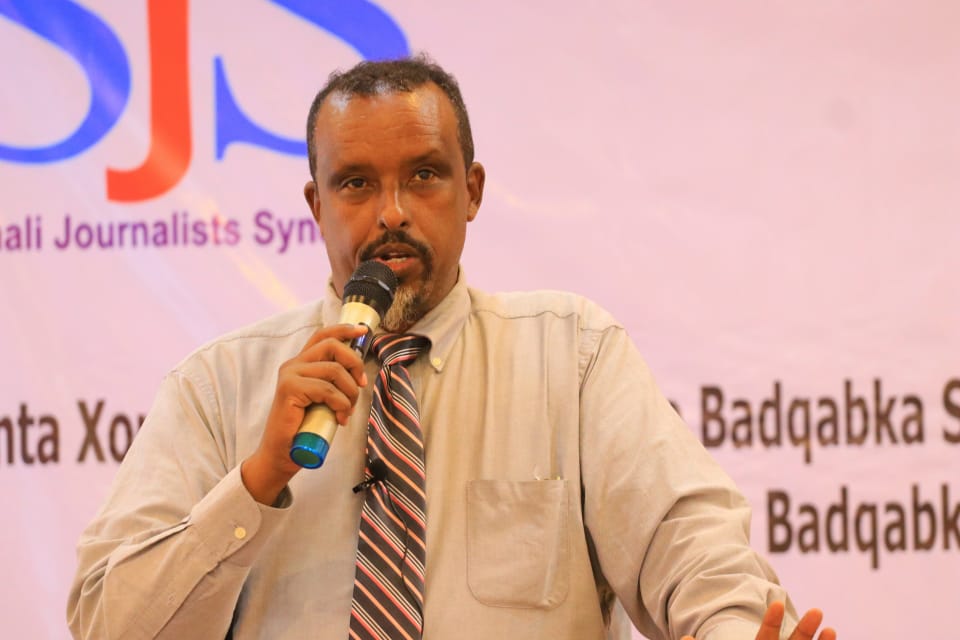 During the three-days of the training, SJS Secretary General, Abdalle Ahmed Mumin and his team who were in Galkayo attended the commemoration of the World Literacy Day at the Galkayo Public Library which promotes reading, peace and tolerance. Also, local journalists from both sides of the city hosted Secretary Mumin and colleagues to a joint dinner where individual journalists spoke about firsthand stories in becoming part of the Galkayo peace initiative.