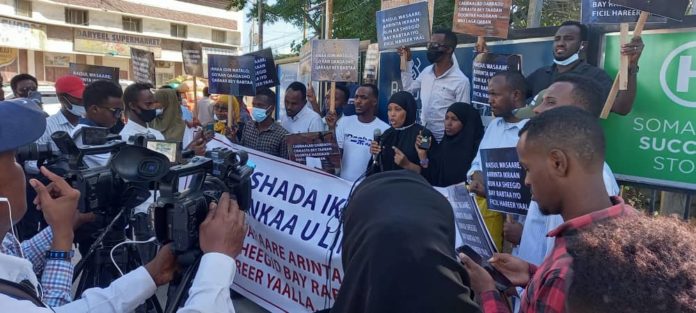 MOGADISHU, Somalia, 05 September 2021 – Somali Journalists Syndicate (SJS) and the Somali Media Association (SOMA) strongly condemn the assault, beatings, use of live bullet and confiscation of equipment by Somali Police Force against journalists covering protesters in KM4 junction in Mogadishu today.
On Sunday afternoon, armed police officers from Hodan and Waberi districts attacked 12 journalists from the local and international news agencies, who were at KM4 junction to cover protesters demanding justice for missing National Intelligence and Security Agency (NISA) employee, Ikraan Tahlil Farah.  According to journalists, police used live bullets to disperse protesters and scare journalists, beat cameramen and confiscated their equipment.
Police also beat, dragged and briefly detained Goobjoog Media producer, Bashir Mohamud, while live-streaming the protest, resulting him to sustain bruises on various parts of his body. According to Director of Goobjoog Media, Hassan Mohamed Mohamud, Bashir was held at Hodan police station and was later released without charge. "Bashir is currently in the hospital and is receiving treatment for bruises he sustained," Mohamud said.
SJS and SOMA strongly deplore the unwarranted act of use of violence by the police. We call for swift, public and transparent investigation into the officers responsible for today's assault on the journalists. We call for Somalia's international partners including United Nations, European Union, African Union and other governments who support Somali security forces to review its program, ensure accountability for police atrocities and urge to uphold human rights and press freedom.
"We strongly condemn this brutal act of beating, harassing, confiscation of journalists' equipment and the arrest of Bashir Mohamud. Journalists were simply doing their duty and were targeted for that. In today's assault, 12 journalists from various news media were affected,' Abdalle Ahmed Mumin, the Secretary General of Somali Journalists Syndicate (SJS) said "We call on the Somali federal authorities to investigate this incident which clearly affects the country's press freedom and ensure those responsible are brought to justice."
"We are deeply saddened by the way the Somali police treated journalists covering KM4 demonstration in Mogadishu. We urge authorities to hold officers who committed these heinous violations accountable. No one is above the law," Mohamed Osman Makaran, the Secretary General of Somali Media Association (SOMA).
On 22 August, the police detained three journalists covering another protest in Mogadishu.