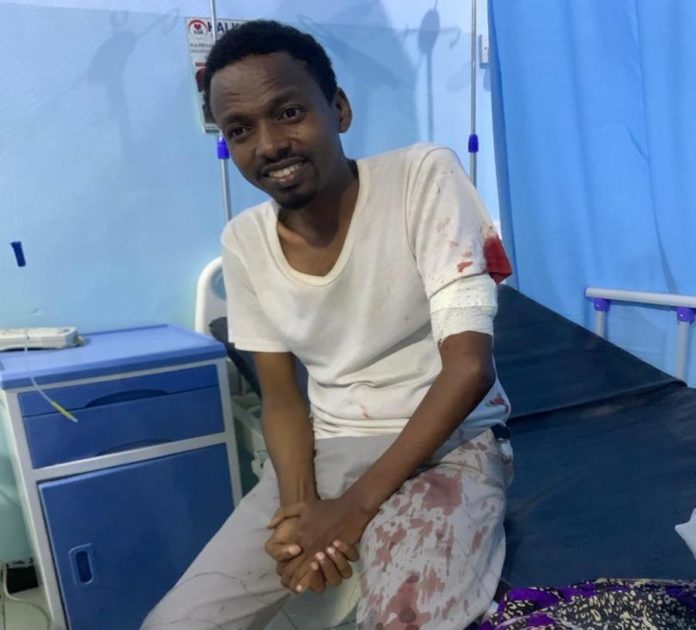 MOGADISHU, Somalia, 24 June 2021 – Somali Journalists Syndicate (SJS) strongly condemns the beating and knife injury against Hanad Ali Guled, SJS Secretary of Training and executive committee member, who also doubles as news editor for Goobjoog Media Group, by unidentified people in Mogadishu's Wadajir district on Wednesday and calls for prompt investigations.
Around 11:00pm local time, four unidentified men ambushed Mr. Guled, on his way to home from work. They severely beat him before hitting their knives twice on the upper arm and the back neck causing severe bleeding. He was rushed to the hospital. Attackers fled the scene immediately.
"The attack and beating against our Secretary of Trainings amounts to an attack on all our members and we condemn in the strongest terms possible," Abdalle Ahmed Mumin, the secretary general of Somali Journalists Syndicate (SJS) said "We are particularly concerned amid ongoing threats on our union officials and staff. We hope for a speedy recovery of our colleague."
"We call for police and criminal investigations department to immediately launch investigations and arrest the perpetrators," Mr. Mumin adds.
On 4 May 2020, Kalsan TV journalist Said Yusuf Ali was stabbed to death near his home in Mogadishu. The case remains unsolved as of today. SJS hopes Somali police to fully investigate and expose those behind this attack.
SJS continues to be a fervent champion of press freedom and the rights of journalists in Somalia. As part of the SJS commitment to promote high standards in journalism, we strengthen journalists' professional competence and ethical standards. Our mission is to monitor and investigate all cases of press freedom violations objectively and independently and those who are trying to silence us will not win.