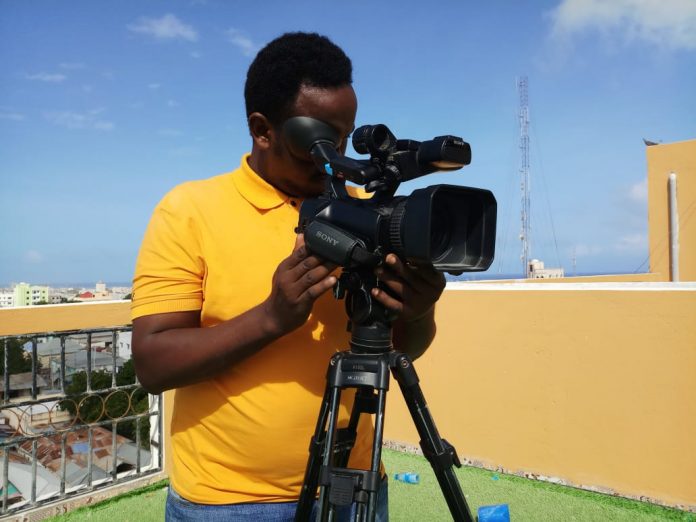 MOGADISHU, Somalia 21 May, 2020- Somali Journalists Syndicate (SJS) strongly condemns the physical assault and the brief detention against SBC TV journalist, Abdullahi Mohamed Sheikhdon during assignment to cover Covid-19 awareness campaign in Mogadishu's Hamar Jajab District on Thursday 21 May, 2020.
Around 11.30a.m today, Hamar Jajab police commissioner, Capt. Rahmo Salad Mohamed accompanied by armed police officers assaulted the journalist on duty and later summoned him to the police station where he was held for one hour against his will before he was set free without charge.
"I was filming when the police commissioner Capt. Rahmo Salad Mohamed who was in civilian attire assaulted me and slapped me on the face. I could not open my eyes for several minutes. She then ordered her officers to take me to the jail. I was released without any charge," Abdullahi Mohamed Sheikhdon told SJS.
SJS condemns in the strongest manner possible the assault on Abdullahi Mohamed Sheikhdon during his Covid-19 coverage and calls for prompt investigations into the officers involved in the assault.
"We strongly condemn the assault on SBC TV journalist, Abdullahi Mohamed Sheikhdon in Mogadishu today. We are extremely concerned that journalists covering Covid-19, who are paying their utmost sacrifice to inform the public, are particularly assaulted by police officers," Abdalle Ahmed Mumin, the Secretary General of Somali Journalists Syndicate (SJS) said, "We call for the Somali authorities to carry out an honest and thorough investigations into their officers responsible for this assault."
Physical attacks on journalists and restrictions on media freedom have increased in the past few weeks in Somalia. On Monday 18 May, armed NISA officers raided the premises of the privately-owned Somali Cable TV in Mogadishu resulting at least one journalist to sustain slight injuries, while police officers blocked and threatened to shoot Som News TV journalists who were on assignment to cover Covid-19 impact on the local businesses. A freelance journalist Warsame Haji Farah was also briefly arrested after photographing Beledhawo city market on the aftermath of a gun clash within the Somali police force in Beledhawo on Monday.