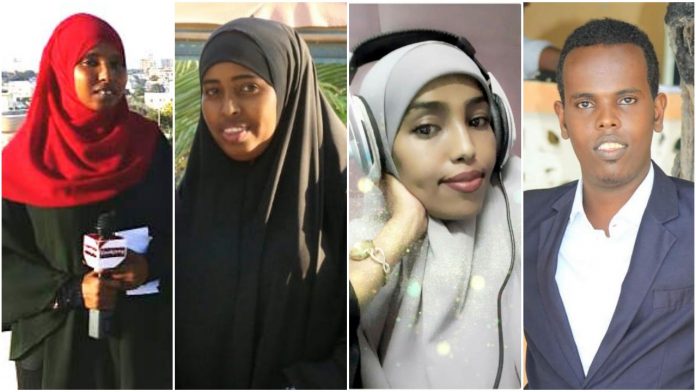 MOGADISHU, Somalia, 29 March, 2020- Somali Journalists Syndicate (SJS) condemns the arbitrary arrests of four Goobjoog Media journalists and their driver in Mogadishu on Sunday 29 March 2020.
The journalists; Hamdi Mahad Diriye (TV reporter); Rahmo Hassan Mohamed (TV Reporter); Muno Mohamed Nur (TV Reporter); Mohamed Abduqadir (cameraman) and their driver Abdisalan were detained while on assignment covering a story of persons with special needs near the KM4 checkpoint in Mogadishu on Sunday morning around 9.30a.m, according to the journalists and their editor Hanad Ali Guled who spoke to SJS.
Hamdi Mahad Diriye and Rahmo Hassan Mohamed told SJS that they, along with other journalists, were briefly held at a detention place near KM4 security checkpoint before they were transferred to the notorious Godka Jila'ow prison, run by the National Intelligence and Security Agency (NISA), where they were locked up for more than an hour. They were released without charge.
"First the NISA officers in a pick-up truck surrounded us while we were in the mid of interview. They confiscated all our phones and seized the cameras. When they brought us at the Godka Jila'ow prison, they locked us up there before they released us without any charges," Hamdi Mahad Diriye told SJS.
After their release, the journalists said their equipment was returned to them. Phone calls and text messages to the Ministry of Information seeking information on the journalists' arrest returned unanswered.
"We are appalled by the constant and targeted attacks against media professionals by the state security, in attempt to obstruct access to information " Abdalle Ahmed Mumin, Secretary General of the Somali Journalists Syndicate (SJS) said, "We condemn these heinous attacks and call for the Somali government to promptly investigate the officers involved in these attacks and bring them before the courts of law."
On Tuesday 10 March, police officers at KM4 checkpoint stopped and briefly detained Mahad Hassan Abdi, a cameraman and Shukri Hussein Sabriye, a reporter and producer- both from the privately owned Radio Mustaqbal- while the journalists were on assignment at a local market in Mogadishu's KM4 area.
According to the journalists, they were forced to stand under the burning sun as a punishment. The journalists told SJS that they were released after their footage from a local market was deleted as a condition for the release. There were no charges brought against the journalists.
Meanwhile, the editor of the privately-owned independent Radio Hiigsi, Mohamed Abduwahaab Nuur (Abuuja) remains detained in the NISA prison in Mogadishu for more than 20 days. He was illegally detained on 07 March for writing about the conduct of the Somali security services.