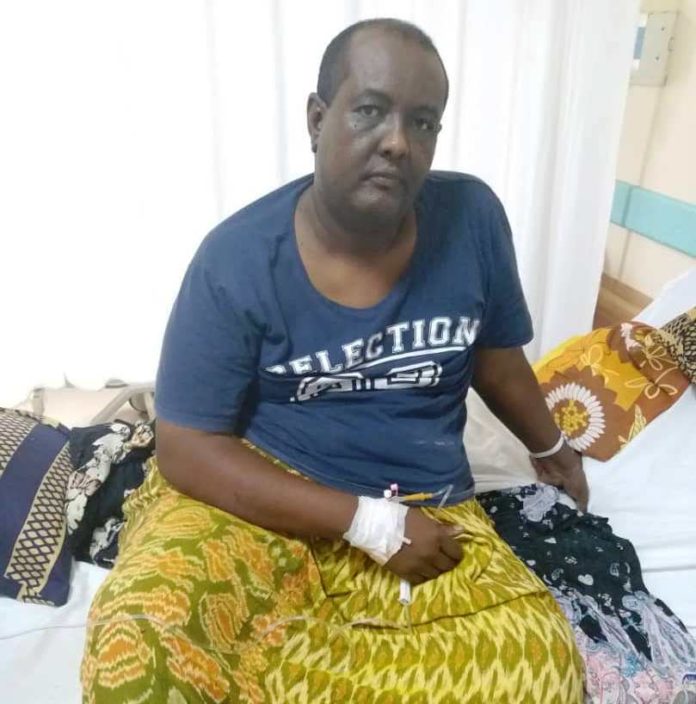 MOGADISHU, Somalia, 20 September, 2019 – Somali Journalists Syndicate (SJS) wishes to call for immediate medical support for a wounded human rights journalist Ismail Sheikh Khalifa whose injuries deteriorated following unsuccessful 10-month long treatment in Mogadishu, Somalia.
Ismail has undertaken several surgeries on his back and gluteus after he was badly injured in a bomb explosion planted in his car which exploded on 04 December, 2018 in Mogadishu. He was leaving the TV studio where he has finished his weekly show, when the bomb detonated remotely. No group has claimed the responsibility of the attack and no investigation was launched yet.
Ismail, who is also the Chairman of Human Rights Journalists (HRJ) has been admitted at Mogadishu Somali-Turkish Hospital (formerly Digfeer Hospital). After two major operations, he was discharged from the hospital on 29 December 2018 but unfortunately his injuries got infections and his situation badly deteriorated resulting his re-admission to the hospital in August, 2019. The doctors again conducted a third operation for haemostasis and debridement.
"Unfortunately, Ismail's situation did not improve as his injuries got infections. After several days of continued efforts to contain and dress the wounds, doctors now say Ismail's wounds turned to be chronic non-healing. The doctors also recommended his immediate transfer to an advanced treatment outside the country," journalist Abdifatah Mo'alim Nur, a member of local journalists committee set up to mobilize support for Ismail Sheikh Khalifa,has told Somali Journalists Syndicate (SJS).
As a result of this situation, early last month, local journalists launched a fundraising effort for the treatment of Ismail to cover Ismail's medical cost in Turkey.
"We hope our colleague Ismail gets advanced treatment to save his life and one option is to relocate him to Turkey for treatment. All well wishers are encouraged to contribute to this fundraising," journalist Abdifatah Mo'alim Nur adds.
The Secretary General of Somali Journalists Syndicate (SJS), Abdalle Ahmed Mumin has joined the local journalists' appeal for support for Ismail Sheikh Khalifa's medical needs while also highlighting his need for a protection due to the threats he has been facing even after he was admitted at the hospital.
"We are very concerned about the medical situation of our colleague Ismail Sheikh Khalifa. He is a renowned human rights journalist, who unfortunately was injured in a brutal bomb attack,' Abdalle Ahmed Mumin, the Secretary General of Somali Journalists Syndicate (SJS) "The medical report we have seen shows that Ismail relies on painkillers on 24/7. We are also sad that he cannot support his family and his eight children who need his support as a father."
"We join this appeal by the local journalists seeking assistance for Ismail and we kindly ask anyone who can to contribute through the fundraising committee. We encourage both institutions and individuals, to help Ismail's medication."Mr. Mumin adds.
Somali Journalists Syndicate (SJS) wants to thank the Turkish Embassy in Mogadishu for assistance in issuing Ismail's visa so that he can travel to Turkey for treatment to his injuries.
"On behalf of Somali Journalists Syndicate (SJS), I thank all private companies and institutions for their generous contributions to support our colleague journalist Ismail Sheikh Khalifa's medical assistance," Secretary General, Mr. Mumin added "We also appreciate the Turkish Embassy in Mogadishu for facilitating Ismail's medical visa to travel to Turkey for medication."
Well-wishers who are willing to contribute can reach out to the fundraising committee via email; fitaaxqeys@gmail.com or direct call +252 615 561 892.
–END–