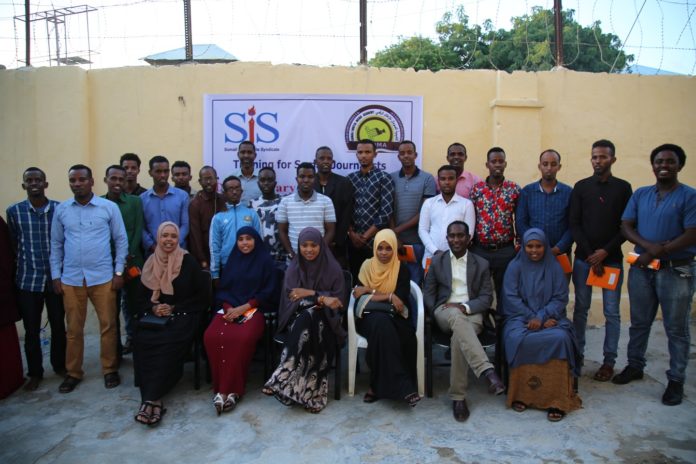 PRESS STATEMENT
MOGADISHU, Somalia, 18 July, 2019 – Somali Journalists Syndicate (SJS) in partnership with Somali Digital Media Academy (SODMA) on Thursday 18 July, 2019, opened a two-week course on Documentary Video Storytelling for 26 journalists in Mogadishu, Somalia.
The course, which will train 20 male and six female journalists from all sectors of the media from 18 – 30 July, 2019, aims to improve the quality of journalism through documentary video storytelling as it provides relevant skills and upgrade the professional capacity of the journalists in the digital age.
The training, which is supported by Somali Journalists Syndicate and Somali Digital Media Academy (SODMA), becomes the first in its kind in the country and has been initiated based on the growing needs of local journalists to adopt in the use of video storytelling techniques to report upon news and social events.
At the opening of the workshop, Guled Salad Qarey, a camera journalist with Universal TV appreciated Somali Journalists Syndicate (SJS) for supporting the training.
"I am a camera journalist and I always thought to get training like this. Today I got the chance to attend and thanks to Somali Journalists Syndicate and its Secretary General, Mr Abdalle Mumin for his commitment to fellow journalists," Guled Salad Qarey said "I urge Somali Journalists Syndicate to continue helping journalists and reach every corner where there is a need for a journalist training."
Amal Yusuf Moalim, a female TV reporter and presenter who works at Dalsan TV emphasized the important role of female journalists in the visualized storytelling if they have the capacity and the training.
"We as women in the journalism welcome this training. We are very grateful to Somali Journalists Syndicate (SJS) for making this training possible. We are also glad that the training is held in Mogadishu where we can work and at the same time learn," Amaal Yusuf Moalim said. "As an advocate for women journalists, I call the female journalists who are here today to concentrate more on the topics so that you can benefit much from the trainers."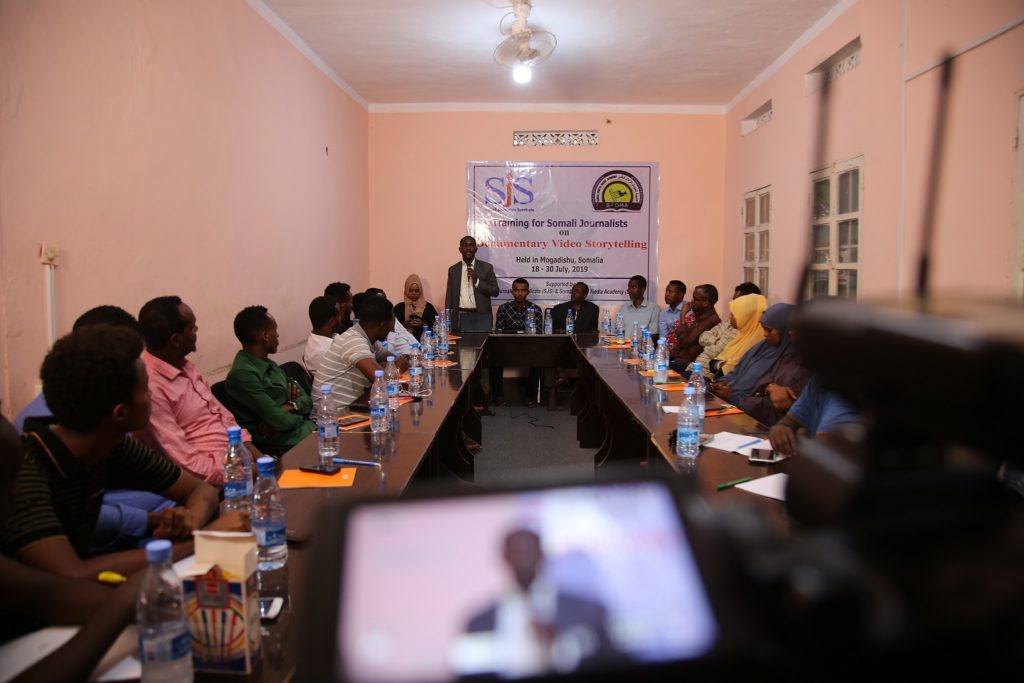 Senior media trainer Abdulkadir Zubeir Haji Hassan who will be one of the trainers has narrated how journalists must adopt the new technology including emerging and old ones in their day-to-day activities.
"Journalists like you have an important role to reveal news events in the country but at times, you need to adopt the new emerging technology including software and equipment to produce a quality content for your audience," trainer Abdulkadir Zubeir said "During the two weeks of this training, my colleagues and I shall instruct you with the latest technologies and techniques."
The trainer also mentioned that at the end of the training each five-member group of journalists who participated in the training will be able to produce a five-minute short documentary film which will be showcased in an event in Mogadishu in early August.
In his opening remarks, Abdalle Ahmed Mumin, the Secretary General of Somali Journalists Syndicate (SJS) expressed his gratitude to the trainers and the Somali Digital Media Academy for hosting the trainees and the trainers.
"Somali Journalists Syndicate (SJS) came to serve for the professional journalists like you and that is why we are providing this unique training today in Mogadishu," Abdalle Ahmed Mumin, , the Secretary General of Somali Journalists Syndicate (SJS) said "This will not be the last training. We are planning to extend our reach to other journalists and storytellers who are in dire need for such trainings."
"A good journalism is the one which has adequate training and when we train journalists so the media will be more professional."Mr. Mumin added.